TV Commercial, potentially to create a behavioral shift for the society from using fabric towels in our bathrooms towards using paper towels, raising public awareness for the bacteria in our towels. The work was created for the iconic Turkish paper towels/tissues brand Selpak which I art directed for years.
Initial mood boards to discuss
the idea and its feasibility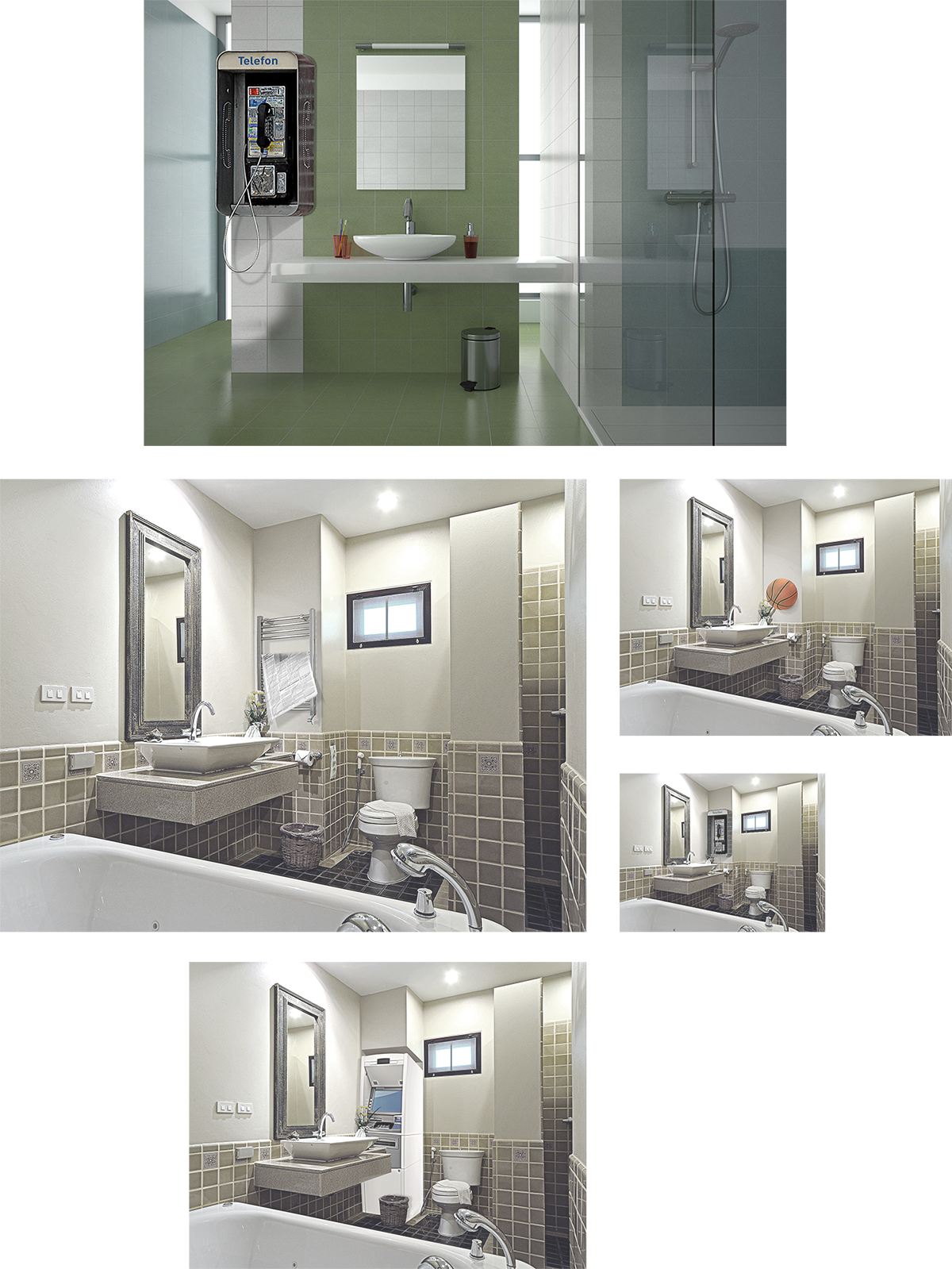 One of the many storyboard iterations 
we worked with the storyboard artist
we hired. My role in this process was to
art direct this process, working with
the artist to achieve our creative target
so we agree with our client, Selpak on
the production budget and outcome of
this campaign.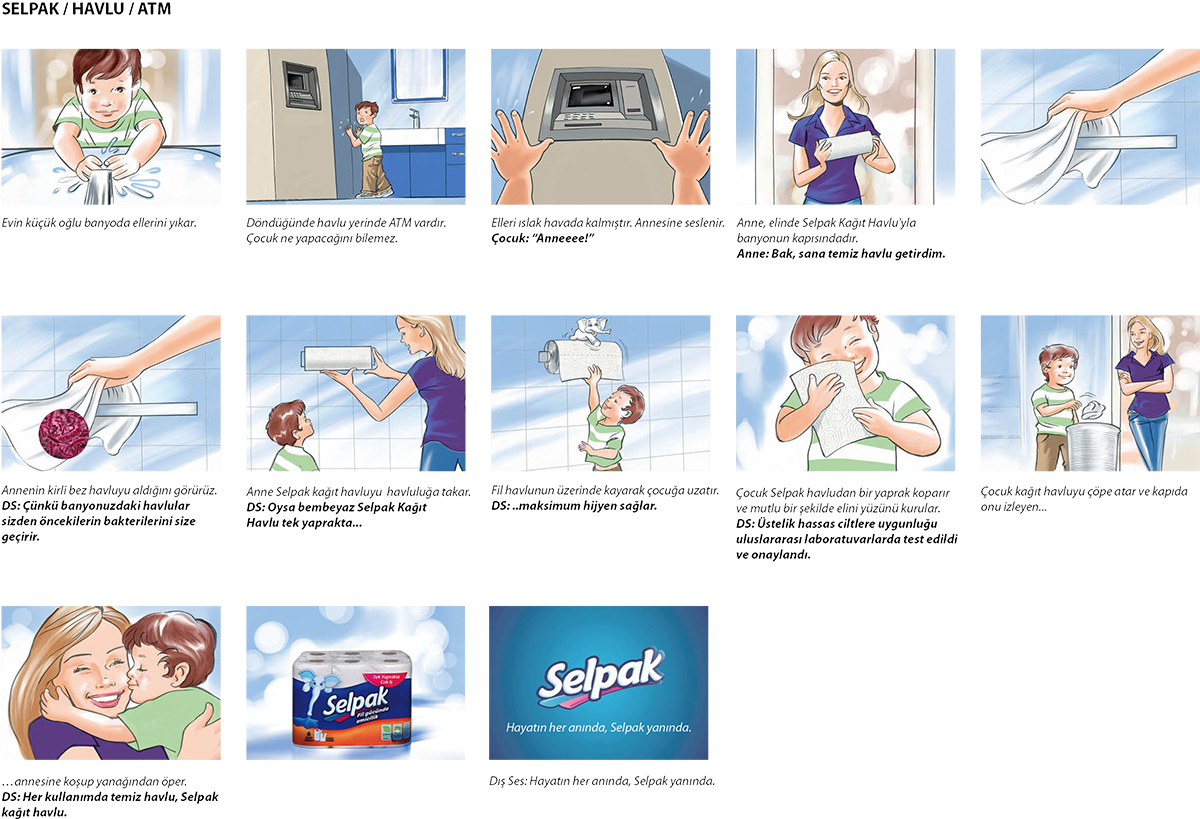 One of the inspirations for the music from my research
Two of the inspirational examples for the overall feeling
A moment from cast selection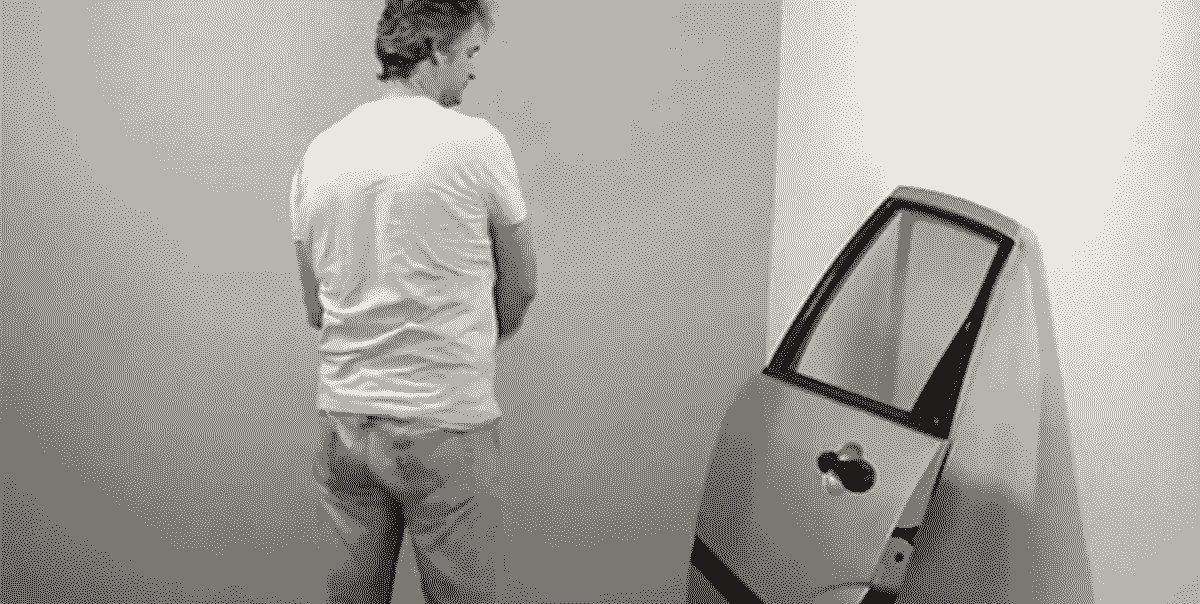 Oversaw and provided lots of feedback during the 3D modeling & rendering of the bathroom for the approval from our client before the construction began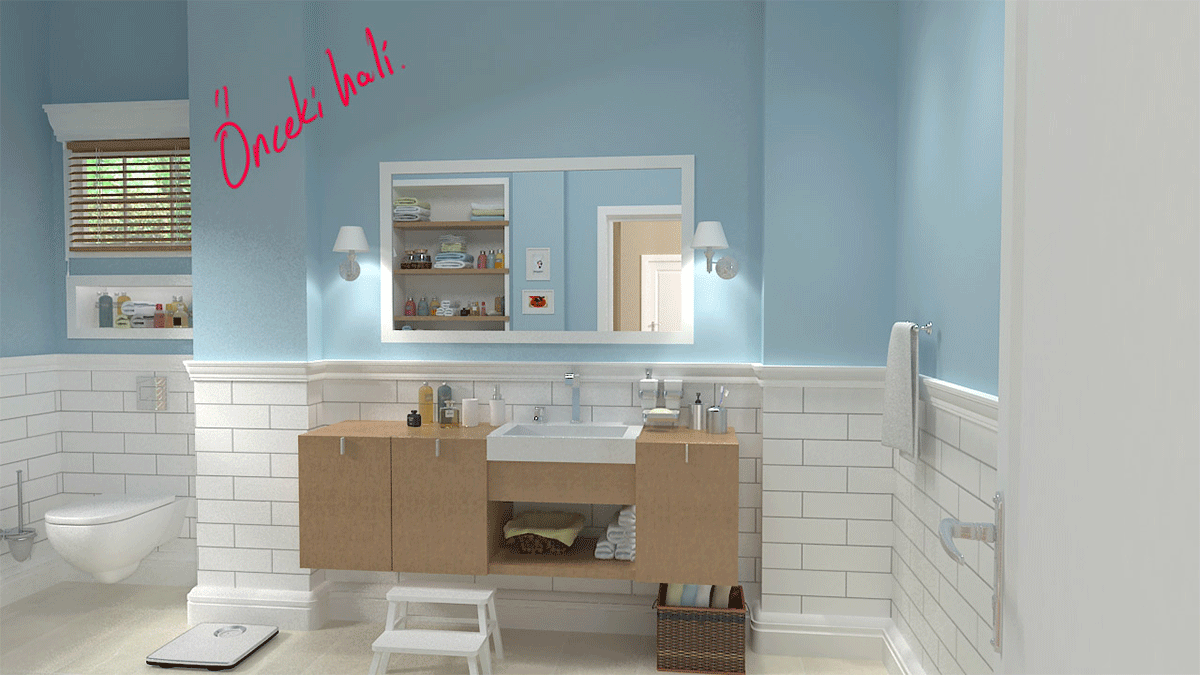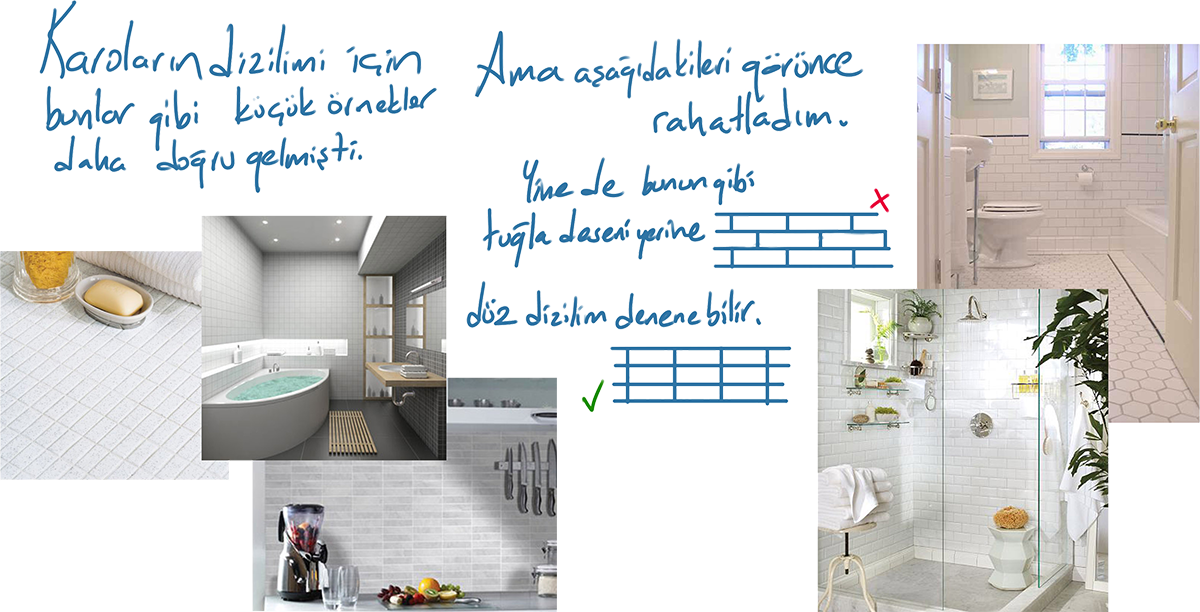 Post-production process included the placement of the elephant (brand mascot) or the pack shot that were also overseen and storyboarded by myself as the Art Director, and my manager, Creative Director Ilhami Duman.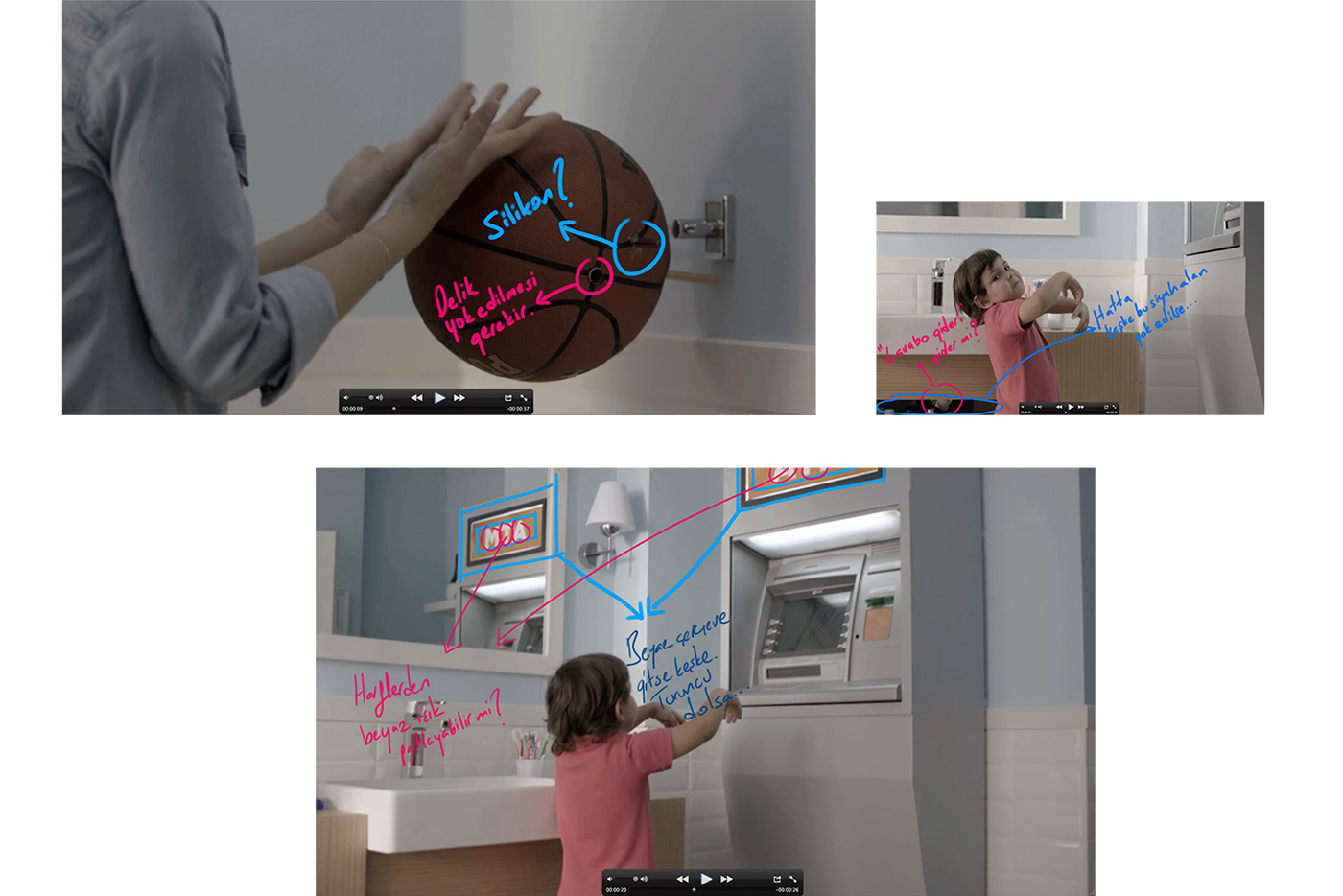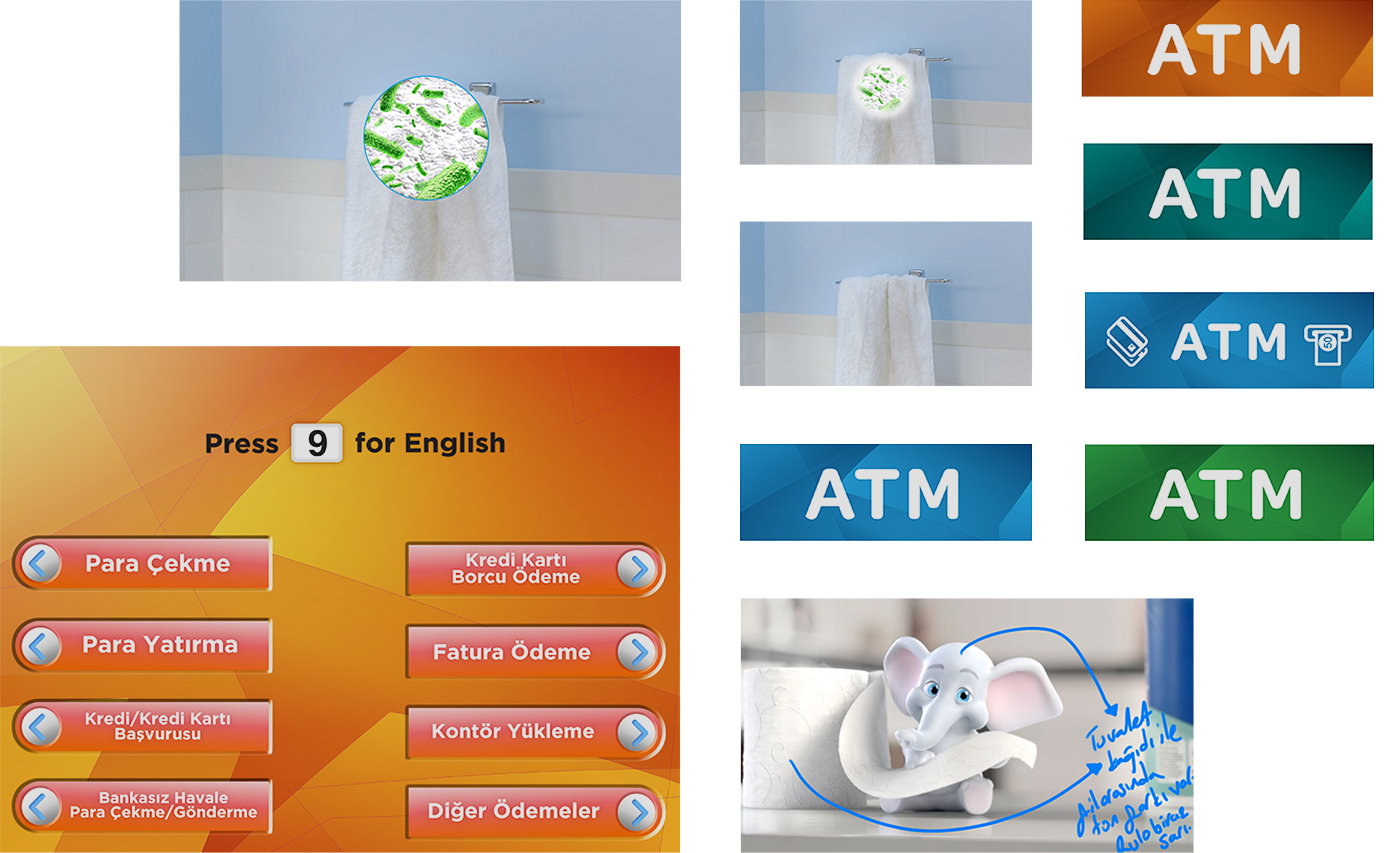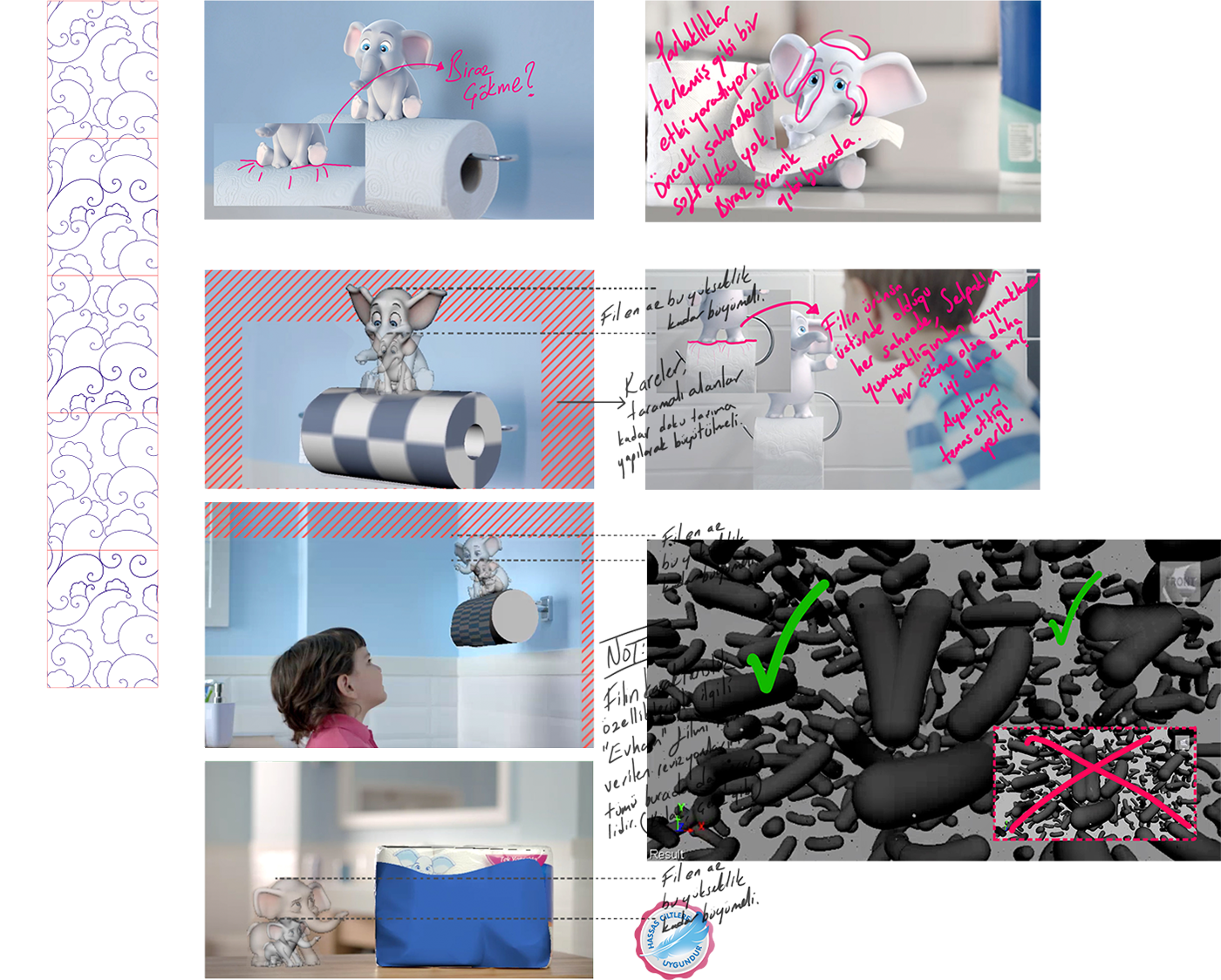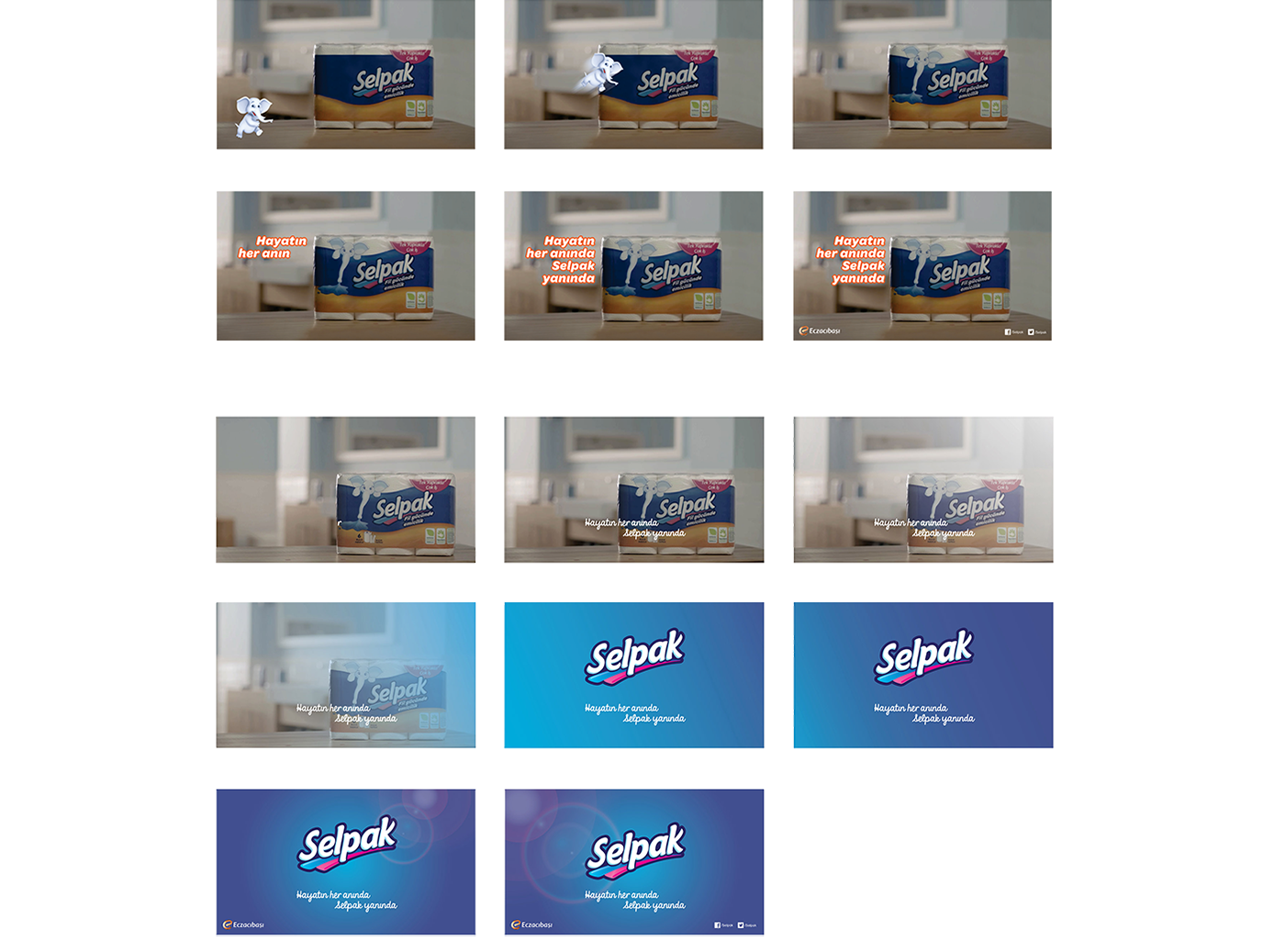 TV Commercial series for the lead tissue brand Selpak, whose primary product, small packages of tissues, has become the synonymous word for tissues in Turkish. Consumers refer to a​ny small package of tissues as "Selpak" ever since it came out decades ago. My role in this project was to come up with the narrative idea and to research & study the illustration style of the films, which could also become the illustration language of the brand. I did extensive research, categorizing the illustration world of known brands based on their abstractness. We then decided on the style with our client, and found the right illustration & character animation artists, producing the work below. The research I conducted is also below the videos at the bottom of the page.
Concept:
Kaan Beyhan, Emre Gökdemir


Illustrator, Animator:

İdil Ar
Art Director:
Zeynep Orbay, 

Kaan Beyhan


Copywriter:
Emre Gökdemir
Group Head:
Zeynep Karakaşoğlu


Executive Creative Director:  

İlkay Gürpınar
Agency:
TBWA Istanbul
The Case Study looking over 
the animation world to be
able to determine Selpak Tissue 
animations' look: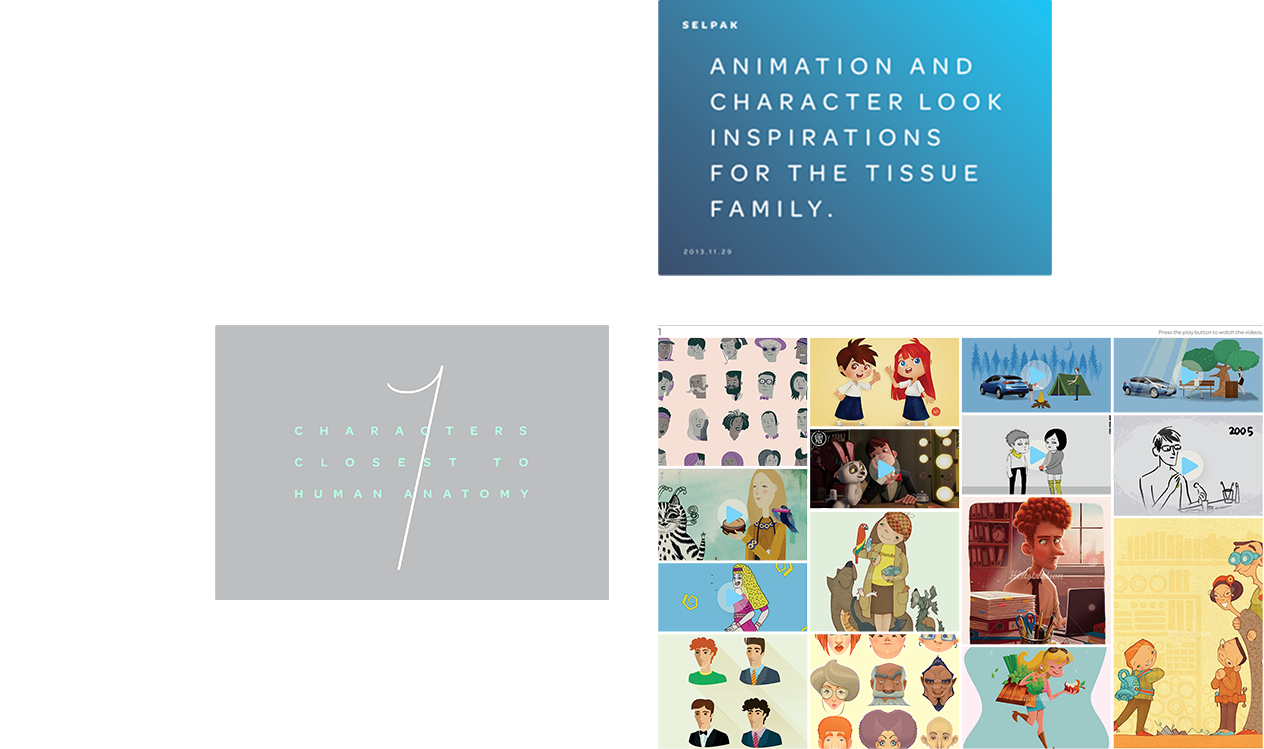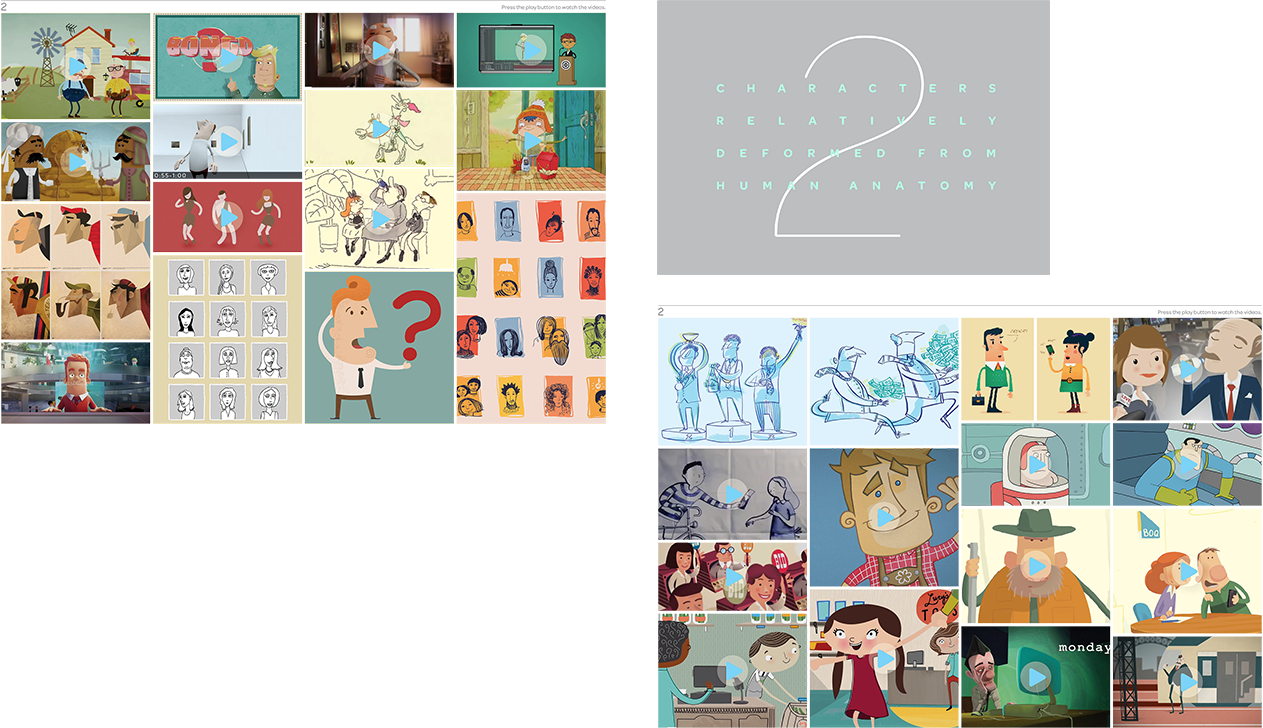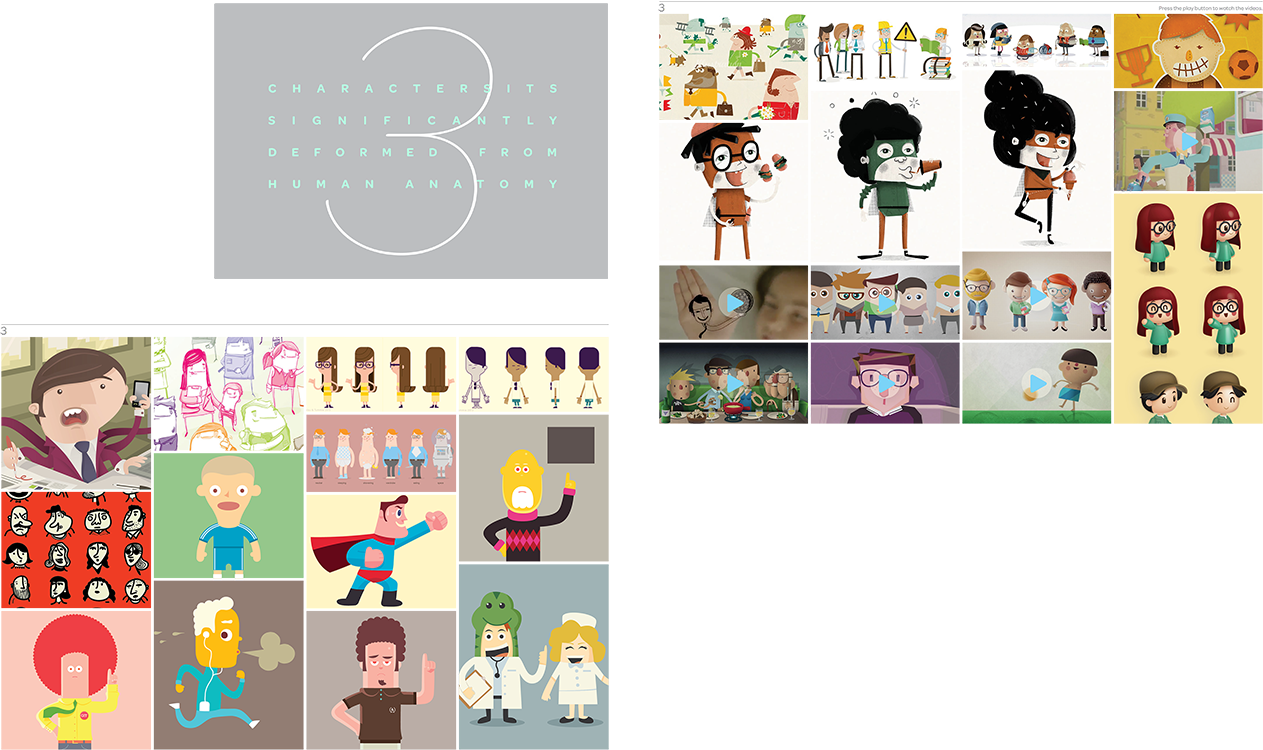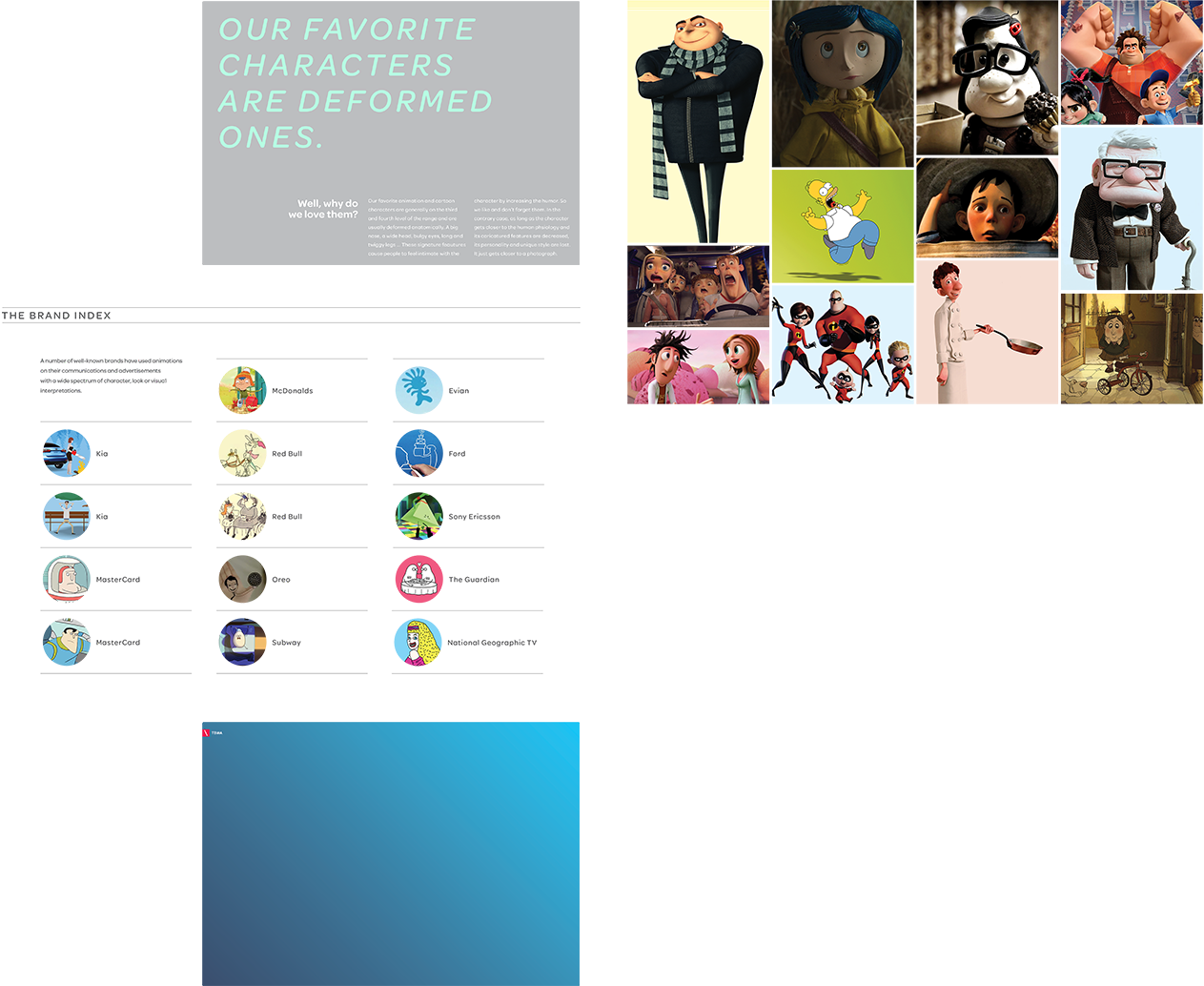 TV Commercial for an Exhibition at Istanbul Modern: Neighbours
Istanbul Modern aka Istanbul Museum of Modern Art, presented 'Neighbours' which means 'Komşular' in Turkish - an exhibition that investigated contemporary art practices in Turkey and the surrounding region. The exhibition brought together artists from neighboring geographies that have historical, political, and cultural ties with Turkey including the Balkans, the Caucasus, and the Middle East, etc.
Our client, Istanbul Modern, requested a TV commercial, made out of the exhibition's poster which was designed​ by the forerunner designer Bülent Erkmen. We utilized the poster in a simplistic solution, animating and recreating it in 3D animation and forming the typographical poster at the end of the film.
Concept:

Ece Aktürk, Kaan Beyhan


Poster Design:

Bülent Erkmen




Art Director:

 

Kaan Beyhan




Executive Creative Director:  

İlkay Gürpınar




Agency:

 

TBWA Istanbul